Register with Proud to Care Hull
All you need to do register your details below and we'll send you the login details you need to start listing your vacancies.
If you have already registered with Proud to Care Hull and would like to post a job vacancy, please log in below.
If you experience any problems don't worry, just email us at proudtocarehull@hullcc.gov.uk and we will contact you as soon as possible.
Why you should register with Proud to Care Hull
The Proud to Care Hull site is a fantastic opportunity for providers to advertise their job vacancies for free on a reputable and far reaching site across the city of Hull.
This will enable you to recruit a higher quality of applicant and subsequently, be a part of a local campaign to increase interest within Hull in working in the social care sector.
By being a part of Proud to Care Hull, it will help raise awareness of your organisation to a wider audience across the city of Hull.
To help promote your vacancies on the Proud to Care Hull website we have developed a 'Social Media' toolkit.
Download your toolkit here or by clicking the image below.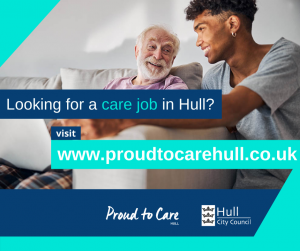 Download Proud to Care Hull posters
Download by clicking the links below